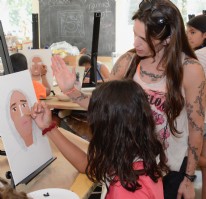 My teaching career began in 2002 at New Canaan Country School as an apprentice. I am highly indebted to NCCS not only for the friends, opportunities, and experiences it has gifted me but also for stepping in when I faced deportation a second-time post-college graduation. I was grandfather-claused into the age-out law, which allowed INS to deport immigrants whose visas were still legally in process upon turning 21. This affected me personally while in college and again upon graduating.
Francie Irvine (former Assistant Head) and my immigration lawyer, Tom Biow (who to this day I still have on "speed dial") worked very closely together to make sure that my family would not be separated and that I could legally work for the school. During my first year "working" at NCCS, I was unable to receive legal payment for my work until INS issued my work visa (visas oftentimes take months and even years to process). It took a year for INS to process my work visa. Additionally, INS prohibits retroactive pay, so many people in the community stepped in to help me however they could.
It took 30 years to become a citizen. It was a difficult process. My first year at NCCS, Lyn McNaught (former Director of Horizons) requested I see her in her very modest office, which back then was above the "vintage" cafeteria. She sat me down and asked me what I was planning for the summer. Unable to work legally and feeling very much out of place, Lyn suggested I give Horizons a try and teach Art. Lyn had a way of detecting everyone's strengths and knowing where they would feel most fulfilled. Horizons immediately felt like home.
I have worked in several independent schools that have often exaggerated their diversity efforts often at the expense of the little diversity they have so they can showcase it in their brochures. Horizons is a place where differences are fostered, acknowledged, encouraged, and celebrated. It is a place where finally Spanish exists outside of just cleaning bathrooms and serving food. And while I hold hard manual work in high regard, Horizons is one of the first schools where I have heard Spanish being spoken at the top levels as well. Some of my former students are now my friends, my coworkers, and even my bosses which proves that Horizons is truly a place of opportunity and inclusive growth.
In 2015 I lost my brother Gacel to mental illness and suicide. We started "The Gacel Horizons Student Scholarship Fund", in his memory. My story is not unique at Horizons. There are many people like me, who share difficult stories that bind us together. The people at Horizons are family to me.
I am not always comfortable using the term US citizen to describe myself because the process made me feel more like an immigrant than a person who belonged. That being said, I feel very comfortable thinking of myself as a citizen of Horizons.
Sincerely,
Isadora Gacel Machado Lecuona
Horizons Senior Art Teacher & Early Childhood Plus Program
---
Comments: