To honor and celebrate the 22 graduating seniors in the Horizons at New Canaan Country School Class of 2021, staff, academic coaches, and families attended an outdoor graduation and Alumni Association induction ceremony at Country School on Saturday, June 12.
Bankwell sponsored the graduation event for the third year in a row, recognizing the resilience, hard work and dedication of these seniors, many of whom started with the program before third grade. Bankwell Branch Manager, Toure Surgeon, a Horizons alumnus from the Class of 2006, kicked off the ceremony by saying: "Undoubtedly the accomplishments from this group are unprecedented as they successfully navigated through a year of COVID, virtual classes, and social issues. This class has shown true resolve and I can guarantee it originates from their family, friends and the great program that is Horizons." Bankwell, together with contributions from the Horizons Family Council, gifted our graduates with a new piece of luggage filled with essentials to help prepare them for the next step in their educational journey.
The class student speaker, Kemberly Denerville, a 2021 graduate of Brien McMahon High School's Center for Global Studies in Norwalk, shared inspirational thoughts for her fellow seniors who made it through an incredibly challenging year. She charged her fellow graduates "to be confident in college and in the journey ahead of us to be curious, strong, atypical, and be extraordinary, I want everyone to go out there and reclaim your time."
Nehemie Moïse, Horizons Family and Program Director, was joined by Family Council representative, Luisa Osorio, to present the Leah Kimmet Spirit Award to Brian Villalta, a 2021 graduate of Rye Country Day School. The award recognizes a graduating Horizons high school senior for their outstanding kindness, enthusiasm and dedication to others. Brian plans to attend Columbia University in the fall.
Jackie Roberson, Horizons Sr. Program Dean of Students and Culture presented the Jackie Roberson Valedictorian Award to Jennifer Llamas, a graduate of Greens Farms Academy, who plans to attend the University of Pennsylvania this fall. This award is in recognition of the student who has received the highest cumulative, weighted GPA throughout their high school years and is known for their integrity and active involvement in the Horizons program.
Ninety-five percent of the Class of 2021 have been accepted into college in the fall, including Eastern Connecticut State University, Fordham University, Norwalk Community College, Springfield College, University of Connecticut – Stamford, University of Connecticut – Storrs, University of Massachusetts – Boston, Western Connecticut State University and Western New England University.
Monae Cherry, Horizons Class of 2011, shared reflections as the alumni speaker and led the recitation of the Alumni Association Oath as the graduating class became inducted into the Horizons Alumni Association. Monae will join the NCCS Apprentice Teacher Training Program this fall.
Executive Director, Nancy von Euler closed the ceremony with a Franciscan blessing that beautifully reflected the Horizons values and hopes for the impact the graduates will have as they head into the world. "May you be blessed with the foolishness to think that you can make a difference in this world, so that you will do the things which others tell you cannot be done." All students were asked to take a plant that lined the stage and present it to their family in recognition of the love and support that helped them get to this important milestone.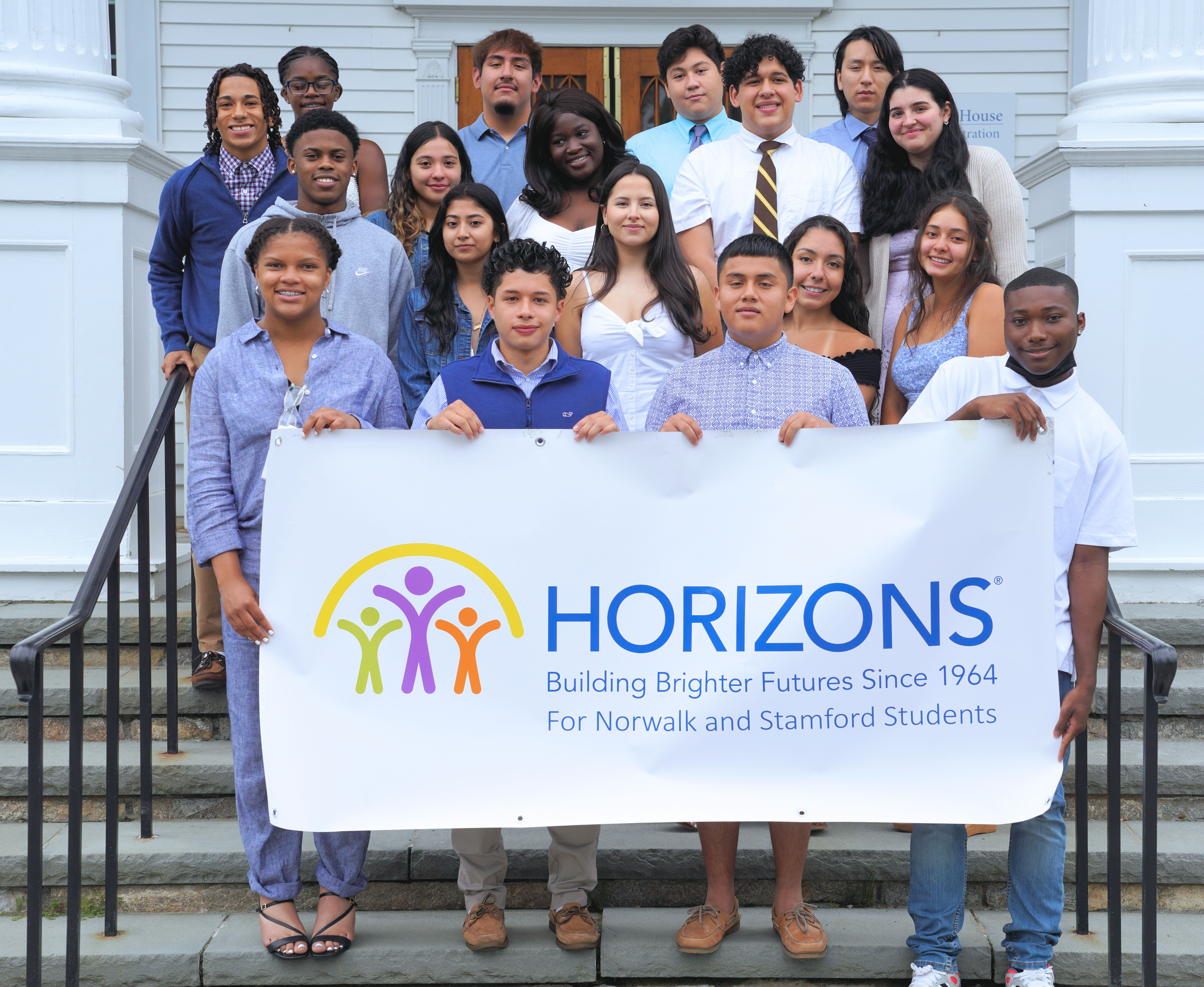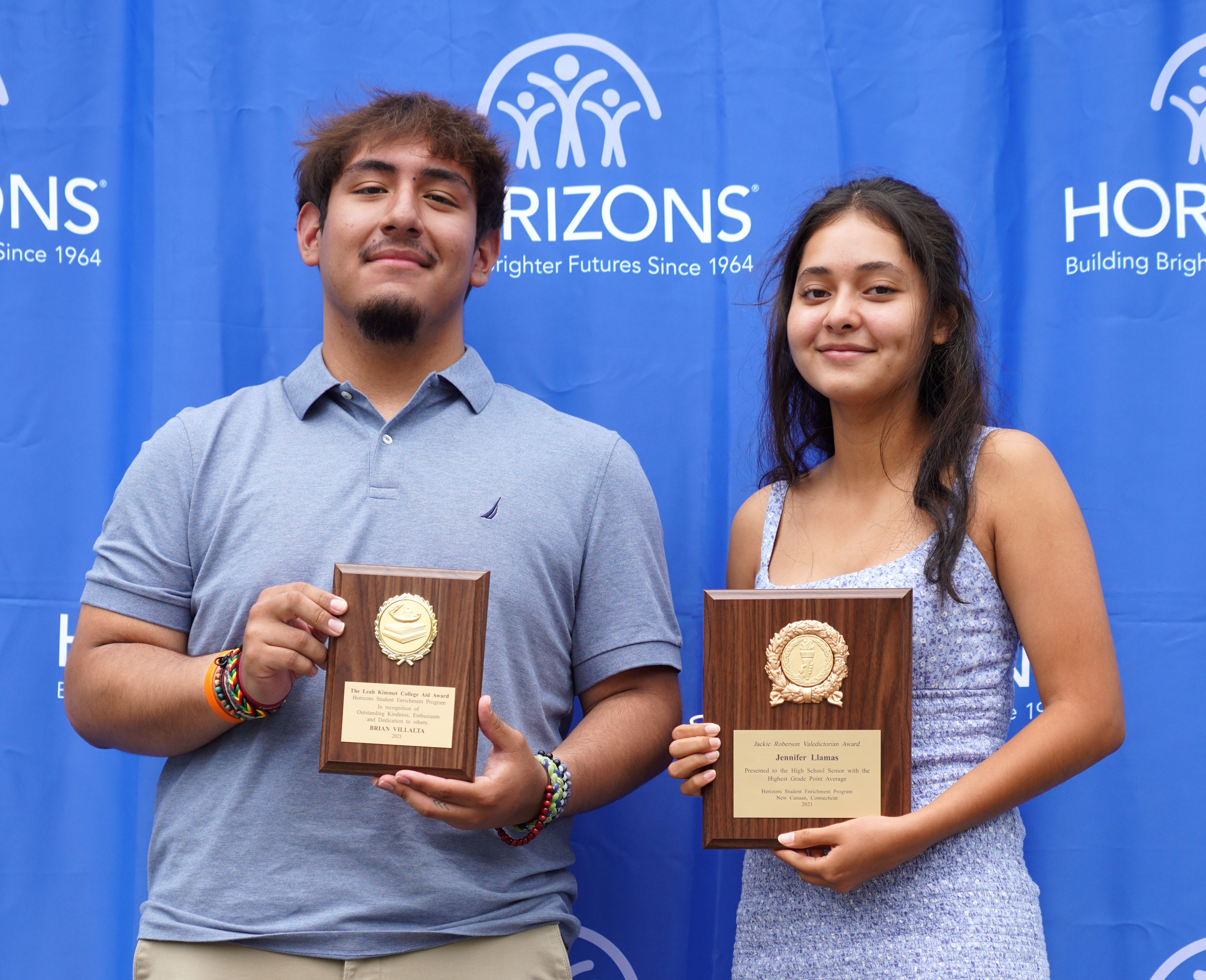 Back to News Page