Results
COVID-19 Relief
Horizons is not typically thought of as a COVID-19 relief organization, but we have a long-term relationship with our families and are committed to seeing them through this crisis, as evident in our response below:
$160,000+

in

grocery gift cards

distributed to help with food insecurity

$30,000+ in

direct emergency financial assistance

(rent, utility and car payments)

30 Chromebooks/laptops

distributed
Academic Progress
One of the main goals of Horizons is to assist students to be up at or above grade level academic standards by the time they reach the end of their third grade summer at Horizons. According to research data done at Chapin Hill at the University of Chicago in 2010, students who are not proficient in reading by the third grade have a 60% chance of being below proficient in reading in middle school. They are also more likely to drop out of high school and less likely to go to college.
In 2019 we began administering STAR testing but were not able to administer due to COVID in 2020. In 2021 we will return to STAR testing at the start of the summer program and work to develop a baseline of data over the next few years to be able to accurately report on student academic gains, that will also include an average of school test scores and teacher evaluations.
In the meantime, National Horizons affiliate data demonstrates the power of the model to mitigate summer learning loss. Horizons National assessments consistently demonstrate impressive gains for all Horizons students. On average, Horizons students improve 8-12 weeks in reading and math skills over the six-week summer session.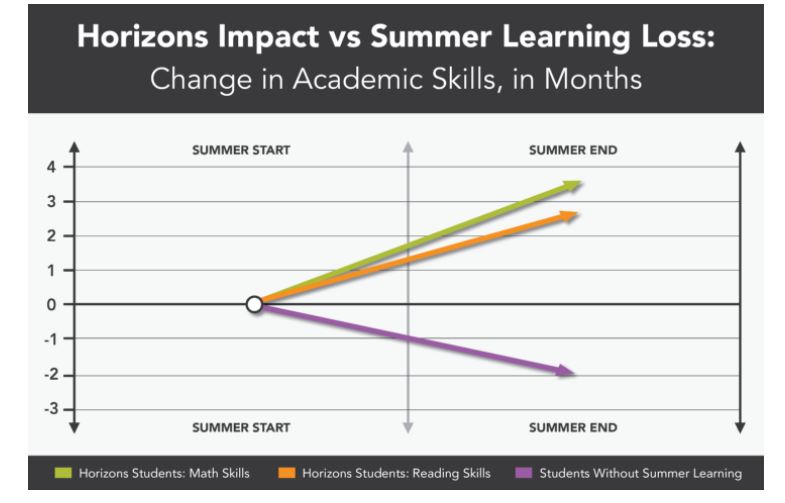 Student Retention and Attendance
According to the RAND corporation, the academic advantage for students with 20 or more days of attendance in a voluntary summer program after the second summer translated to 20-25% of typical annual gains in math and reading.
Horizons connected with 99% (283 out of 286 students) in summer 2020 via delivery of grade-level supplies & grocery gift cards
While 57% opted in to virtual programming, and the attendance rate for these students was 80%
95% attendance rate over a three year period from 2017 to 2019
95% retention rate over a three year period from 2017 to 2019
High School Graduation and College Enrollment
Ultimately, our high school graduation and college enrollment percentages demonstrate the success of the program in terms of closing the opportunity gap. 76% of low-income Fairfield, CT high school seniors graduate high school and there is an overall statewide graduation rate of 87%. While the college enrollment rate for low-income high school students was 67% in 2016 according to the US Census Bureau.
Our three year average

high school graduation rate

is

100%

Our three year average

college acceptance rate

is

100%
Our three year average college enrollment rate is 97%